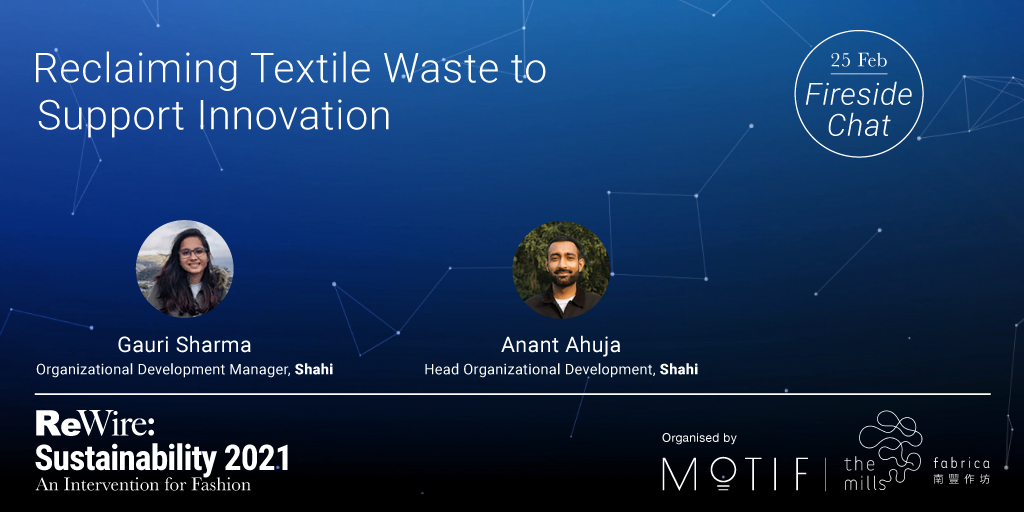 Insights from speaking engagements: 2021
At Shahi, we believe in sharing our experiences and learning with all the stakeholders in the fashion industry and beyond. This is an ongoing post to share insights from our speaking engagements in 2021. Read insights from previous years' engagements: 2020, 2019.
Hong Kong University of Science and Technology (HKUST), MBA Session on Supply Chain Sustainability, February 19, 2021
The session organized by HKUST as a part of their MBA Program focused on sustainability considerations in the global supply chains. We were invited as a guest speaker to offer the MBA students a perspective on how Shahi as India's largest apparel manufacturer and exporter is embracing sustainability through focused social and environmental initiatives. The interactive session included questions from the students on the challenges of implementing a multitude of worker wellbeing programs, disseminating best practices across the industry, and managing a large workforce during the COVID-19 crisis.
Manufactured Podcast, Season 3, February 23, 2021
Manufactured is a podcast started in 2020 with the intention of providing an insider perspective on sustainability in the fashion supply chain. Two members of Shahi's Organizational Development team, Anant Ahuja and Gauri Sharma were invited to speak for the latest double-episode which is now in its third season. We believe in the power of being transparent, sharing our experiences, and gaining valuable feedback to improve further through platforms like Manufactured. Part 1 of the podcast covers Shahi's journey over the last 45 years, and our perspective on collaboration between buyers and suppliers to drive sustainability. Part 2 of the podcast covers how Shahi has benefitted from becoming a vertically integrated supplier, and insights on our collaboration to drive circularity in the fashion supply chain.
ReWire: Sustainability 2021, Feb 24- 26, 2021
This 3-day virtual event was organized by MOTIF and The Mills Fabrica with selected disruptors in the sustainability industry. The event spotlighted emerging ecosystem standards, new materials, and a pathway towards circularity to fuel innovation across the fashion supply chain. On the panel, "The infrastructure of sustainability" on February 24, 2021, we talked about our approach towards energy conservation and clean energy transition. In 2019-20, 77% of the electrical energy consumption across Shahi was carbon neutral. On February 25, 2021, we presented our new research project with The Hong Kong Research Institute of Textiles and Apparel, through which we are reclaiming textile waste to grow cotton more efficiently as a way to support cotton farmers. Register for free to access the session recordings here.
Please write back to us at od@shahi.co.in for more information.