Insights from speaking engagements: 2021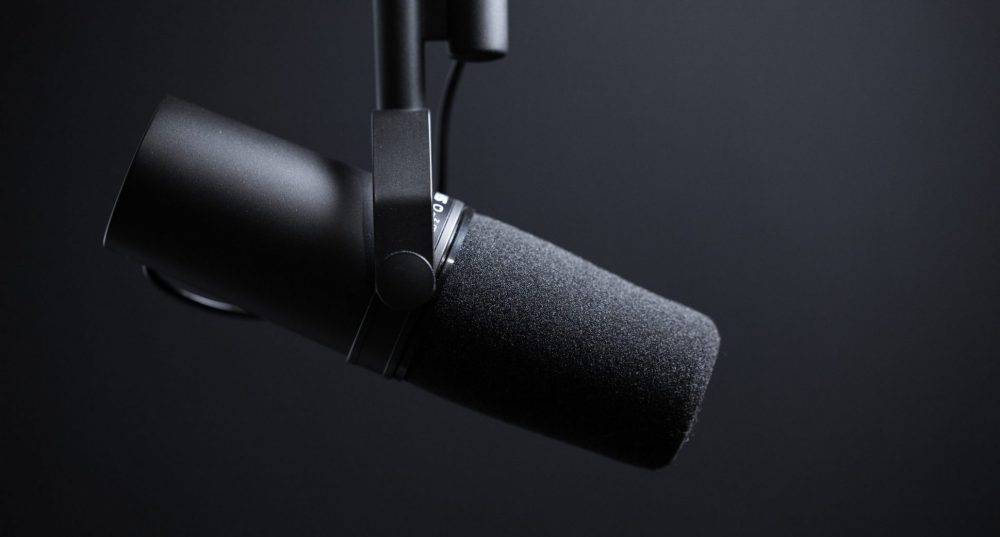 At Shahi, we believe in sharing our experiences and learning with all the stakeholders in the fashion industry and beyond. This is an ongoing post to share insights from our speaking engagements in 2021. Read insights from previous years' engagements: 2020, 2019.
December 14, 2021 | SLCP Signatory Webinar 
Manjunatha Sriramaiah, Assistant General Manager of Compliance at Shahi spoke at the Social Labour Convergence Program Signatory Webinar 2021 held in December. He highlighted how Shahi became an early signatory to

SLCP
owing to the program's numerous benefits, including value-added service for our customers, capacity building for our employees, and the tool's credibility. Currently, 76% of our facilities have completed the SLCP self-assessment, saving us 4,416 hours due to reduced audits.
Read more in our case study.
December 14, 2021 | #ETConvergenceSeries Industry 4.0: Connected Operations for smart manufacturing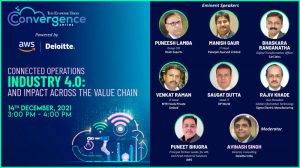 Our Chief Technology Officer, Puneesh Lamba was featured on a panel at the coveted ET Convergence Series. He spoke about automated and smart manufacturing in the apparel industry and the potential it holds to develop more robust businesses.  This panel was organized by The Economic Times and powered by Amazon Web Services (AWS), and Deloitte. Other esteemed guests on the panel represented MTR Foods, DP World, Patanjali Ayurved Limited, Carl Zeiss and Sigma Electric Manufacturing.
December 9, 2021 | Business for Social Responsibility
How to Enable a Just, Fair, and Inclusive Transition to Circular Fashion by BSR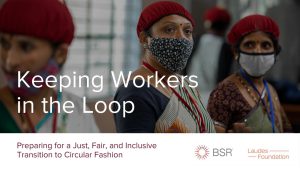 Business for Social Responsibility (BSR) organized this panel discussion to launch the report 'Keeping Workers in the Loop.' The conversation revolved around the opportunities around circular fashion while emphasizing its impact on the job market for garment workers, especially women. Gauri Sharma, Senior Manager, Organizational  Development, spoke about the context of circular economy and how the responsibility of a manufacturer is not just limited to recycling but also includes women in circular jobs. Incorporating their traditional techniques of repair, upcycle, and the like into the circular models makes for a more collaborative model. We must endeavor to ensure good quality jobs that align with frameworks such as SLCP. 
Click to watch the recording.
November 3, 2021 | Manufactured Podcast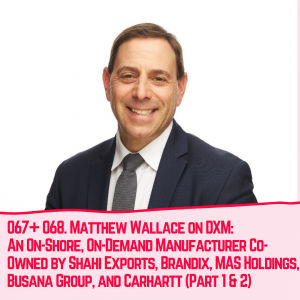 Gauri Sharma, Senior Manager, Organizational Development, was invited to co-host a series on the fourth season of the Manufactured podcast hosted by Kim Van der Weerd. These episodes were in conversation with Matthew Wallace, CEO of DXM. Inc
DXM is a technology-driven on-demand manufacturing company co-owned by Shahi Exports, Brandix, MAS Holdings, Busana Apparel Group, and Carhartt. Gauri and Matthew speak about how building a soft relationship between various stakeholders in the industry is equally important as technological innovation in ensuring circular business models. 
Episode 1: View more
Episode 2: View more
October 14, 2021 | Sankalp Global Summit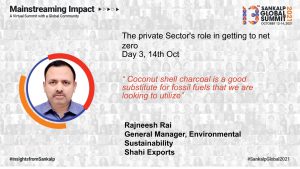 The Sankalp Global Summit was a three-day event that saw over 2521 delegates from 104 countries. Rajneesh Rai, General Manager, Environmental Sustainability, spoke on the panel 'Getting to Net Zero – the Role of the Private Sector' on Shahi's tremendous progress and leading the way in being part of the solution by setting bold commitments to reducing the greenhouse gas emissions. He highlighted some of the key achievements at Shahi, such as the Cradle to Cradle Certification for the 'Arth Collection,' declaring Science-Based Targets at some of our factories, among others. He also pointed out how favorable government policies and commercially viable technologies will help stakeholders transform into a sustainable ecosystem.
October 13, 2021 | Sedex South Asia 2021

SEDEX is a membership organization that provides online platforms to manage and improve the working conditions in the global supply chains. Srinivasa Rao Venkatesh, Chief Compliance Officer at Shahi spoke at the 'Managing Supply Chain Risks in the Textile Industry,' highlighting some of the risks faced by the industry, such as health and safety, licensing, and working hours. These further expand to post-lockdown challenges, including job losses, and issues affecting migrant workers. He concluded by enumerating potential solutions we deployed at Shahi to enhance capacity building, monitoring, workforce empowerment, and providing a fair and respectful workplace. 
September 9, 2021 | PI Apparel 
PI Apparel
is a membership community for apparel and footwear manufacturers that engage with the industry's challenges and technologies. PI Apparel organized a
sustainability spotlight
in September where our Head of Organizational Development, Anant Ahuja, moderated the session on 'What are the Practical Steps We Need to Take in Terms of Infrastructure, People & Technology to Underpin a More Sustainable Operation'? The session focused on the culture of sustainability among different organizations and how brands and suppliers can leverage technology to drive sustainability. The key to an impactful journey towards sustainability is collaboration at the core of business models.
September 1-2, 2021 | Thrive 2021, KGA Managers' Conference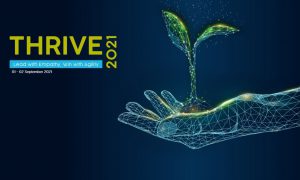 This year, KGA Manager's Conference engaged with the theme 'Lead with Empathy, Win with Agility' to discuss the challenges and risks triggered by the pandemic. Anant Ahuja, the Head of Organizational Development at Shahi, participated in the 'Sustainability: Imperatives & Roadblocks' session. He spoke about how at Shahi, collaboration with brands and research institutions supplement sustainable practices. Examples include the ZDHC Roadmap to zero programs, NIFT Chair 4.0, Cradle to Cradle Certified® Gold products, and a trial with HKRITA. He also shared a few suggestions on how KMART Group as a brand can help suppliers on their journey towards becoming sustainable. Here, sharing knowledge with suppliers, developing a capacity plan, and small interventions such as sourcing closer to the market and consolidation of shipments are a few steps that can considerably impact suppliers. 
August 2, 2021 | Tamarind Chutney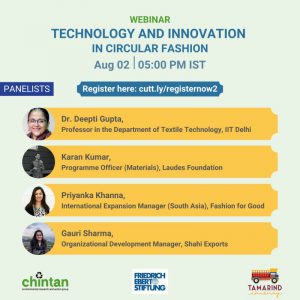 A Webinar on 'Technology and Innovation in Circular Fashion' 
The webinar was co-organized by Tamarind Chutney and Chintan (Environmental Research and Action Group) with the support of Fredrik Ebert Stiftung (FES) Foundation. The panelists discussed the growing global recognition for moving from a wasteful linear supply chain to a closed-loop, a circular one. Gauri Sharma, Senior Manager of the Organizational Development team, spoke about the need for innovations and technology to solve critical challenges and enable this transition. She described how Shahi is working on projects such as Cradle to Cradle products, HKRITA- SAP, microbial dyeing, and recycling, among others. She also spoke about suppliers' challenges, including the price-sensitive nature of the industry, transactional and short-term relationships with brands, and lack of transparency.
Watch the webinar view more
July 15, 2021 | Walmart Global Sourcing Sustainability (Regenerative Retailer) Summit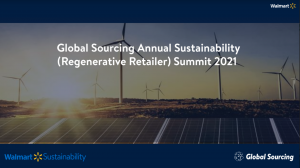 The summit explored how the suppliers can work together with brands actively to pursue sustainability goals aimed at sourcing responsibly, eliminating waste and emissions, selling sustainable products, and protecting nature. In the virtual session, he shared Shahi's vision of 'doing more with fewer resources' along with the company's progress in improving its impact in four distinct areas: energy, chemicals, water, and materials.
June 1-4, 2021 | United Nations Responsible Business and Human Rights Forum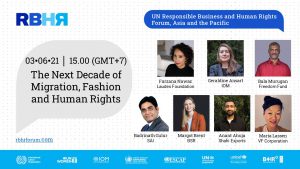 The UN Human Rights Office for Southeast Asia organized five virtual sessions at the 2021 UN Responsible Business and Human Rights Forum. Anant Ahuja, Head of the Organizational Development at Shahi, spoke at 'The Next Decade of Migration, Fashion and Human Rights' panel, centered around the role, vulnerabilities, and experiences of migrant workers and the impact of future business trends on them, especially the female labor in the fashion supply chain. He discussed a few practical examples of how Shahi is contributing to the wellbeing of migrant workers including implementing our skill development program since 2013, establishing the Migrant Support Centre in 2021, and our goal to provide access to vaccines to our entire workforce.
April 27-29, 2021 | Sustainable Apparel and Textiles Conference
The two-day event organized by the Innovation Forum addressed how apparel brands can adapt practices to deliver on growing stakeholder expectations and drive circularity while reducing the climate impact on the fashion supply chain. Anant Ahuja, Head of Organisational Development at Shahi spoke about the challenges, particularly the power imbalance faced in the textile industry, and how adhering to practices such as on-time payments and making long-term commitments with suppliers will help improve the buyer-supplier relationship.
April 13, 2021 | Transformer's Foundation x Manufactured Live Event
The live panel discussion organized by Tranformer's Foundation and Manufactured Podcast focused on consolidation and vertical integration in the fashion supply chain in a post-pandemic world, and how vertical integration supports sustainability within the suppliers. Anant Ahuja, Head of the Organizational Development at Shahi, reflected on Shahi's journey and the values of sustainability and worker wellbeing that have been passed over generations. In the session, we discussed the several benefits of being vertically integrated including improved traceability, speed, cost, and time-saving mechanisms. Shahi hopes to bring together manufacturing expertise to further improve the vertical integration across the industry.
Watch a recording of the full panel discussion:
February 24- 26, 2021 | ReWire: Sustainability 2021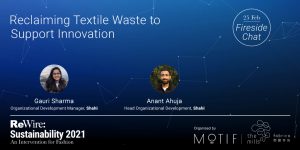 This 3-day virtual event was organized by MOTIF and The Mills Fabrica with selected disruptors in the sustainability industry. The event spotlighted emerging ecosystem standards, new materials, and a pathway towards circularity to fuel innovation across the fashion supply chain. On the panel, "The infrastructure of sustainability" on February 24, 2021, we talked about our approach towards energy conservation and clean energy transition. In 2019-20, 77% of the electrical energy consumption across Shahi was carbon neutral. On February 25, 2021, we presented our new research project with The Hong Kong Research Institute of Textiles and Apparel. We are reclaiming textile waste to grow cotton more efficiently as a way to support cotton farmers. Register for free to access the session recordings view more.
February 23, 2021 | Manufactured Podcast, Season 3

Manufactured is a podcast started in 2020 to provide an insider perspective on sustainability in the fashion supply chain. Two members of Shahi's Organizational Development team, Anant Ahuja and Gauri Sharma were invited to speak for the latest double-episode which is now in its third season. We believe in the power of being transparent, sharing our experiences, and gaining valuable feedback to improve further through platforms like Manufactured. Part 1 of the podcast covers Shahi's journey over the last 45 years, and our perspective on collaboration between buyers and suppliers to drive sustainability. Part 2 of the podcast covers how Shahi has benefitted from becoming a vertically integrated supplier, and insights on our collaboration to drive circularity in the fashion supply chain.
February 19, 2021 | Hong Kong University of Science and Technology (HKUST), MBA Session on Supply Chain Sustainability
The session organized by HKUST as a part of their MBA Program focused on sustainability considerations in the global supply chains. We were invited as a guest speaker to offer the MBA students a perspective on how Shahi, India's largest apparel manufacturer, and exporter, embrace sustainability through focused social and environmental initiatives. The interactive session included questions from the students on the challenges of implementing a multitude of worker wellbeing programs, disseminating best practices across the industry, and managing a large workforce during the COVID-19 crisis.
Please write back to us at od@shahi.co.in for more information.