Closing the skill gap: How Shahi's skilling efforts enable more women to enter the workforce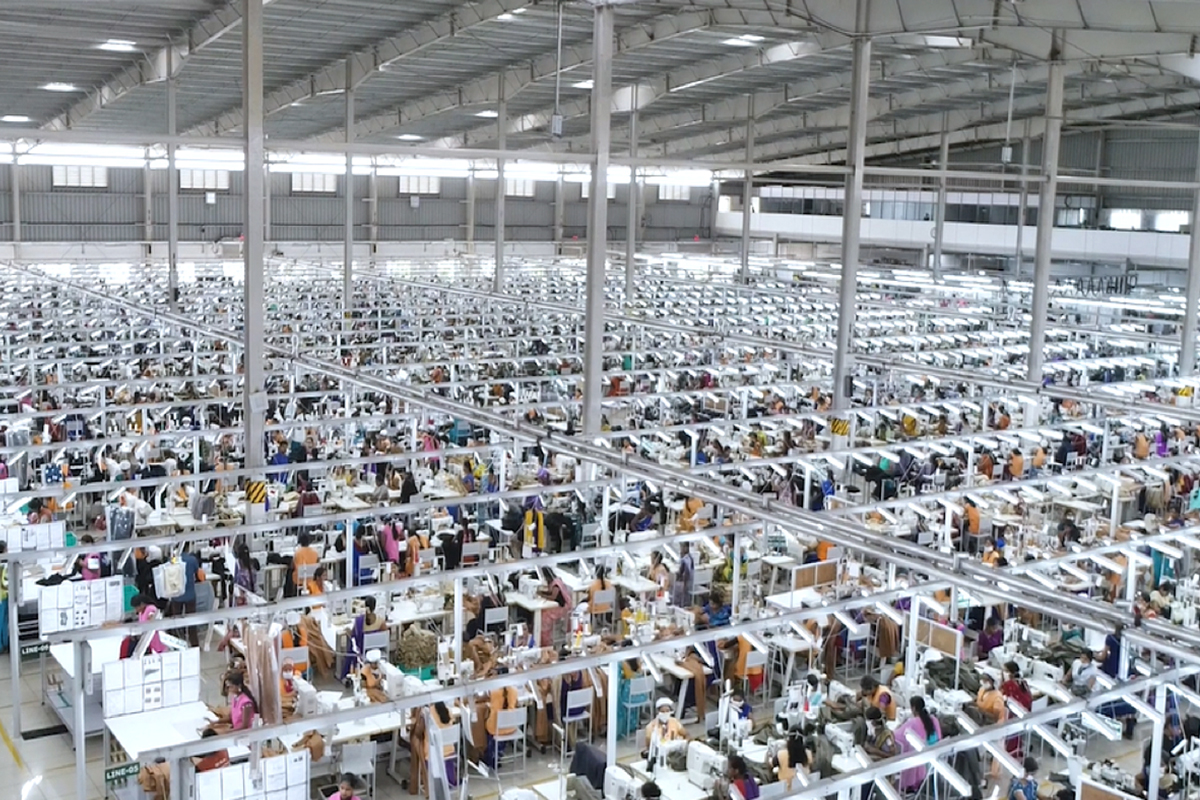 India's Female Labor Force Participation has fallen from 36.7% in 2005 to 26% in 2018. The apparel industry, as a majority female employer, holds the power to break some of the barriers women face to enter the formal workforce. Read our blog post to understand how Shahi's skilling efforts are enabling more women to join the formal workforce.
By Gauri Sharma and Sakshi Katyal
The textile industry is the second-largest employer in India after agriculture with over 45 million people and another 60 million people in allied sectors, including a large number of women from rural areas. The Ministry of Skill Development and Entrepreneurship (Govt. of India) has estimated that an additional 6.7 million people will be required in the apparel and textile industry workforce by 2022. To bridge the skill gap, the government has introduced the 'Scheme for Capacity Building in Textile Sector', which aims to provide relevant skills to 1 million people over a period of three years (2017-2020). While women, making 60% of the Indian apparel and textile workforce, dominate the industry, they have been dropping out of India's formal workforce in large numbers. India's Female Labor Force Participation (FLFP) has fallen from 36.7% in 2005 to 26% in 2018. With a rank of 121 among 131 countries, India is lagging behind the world in female labor force participation.
A range of challenges prevents young girls and women from entering the formal workforce including conservative social norms, gender biases, unsafe working environments and public spaces, and a lack of low-skill jobs for those transitioning out of agriculture. While some of these barriers are societal and cultural in nature, the apparel industry, as a majority female employer, holds the power to break some of these barriers by providing access to skill building and employment opportunities to rural women. As India's largest apparel manufacturer, we believe that it's our responsibility to bridge the existing skill gap – for our business, the industry, and the women that are being left out of the workforce. This is why we have been working with the state and national government since 2013 to establish skill training centers all across the country. Under the government's flagship skill development schemes such as Deen Dayal Upadhyaya Grameen Kaushalya Yojana (DDUGKY) and Integrated Skill Development Scheme (ISDS), we have set up over 30 skill centers, training more than 20,000 women since 2013, 80% of whom have been employed. While most of the trainees get employment at Shahi, we also collaborate with our industry peers and place the trainees in their factories.
Skill development initiatives led by the private sector are also gaining momentum in India. This is evident from the 50% increase in Corporate Social Responsibility (CSR) or corporate philanthropy investment in India for education and skill development between 2015-16 and 2017-18. To expand our skilling operations, we have tapped into this growing investment by partnering with India's leading companies such as Tata Steel and Spark Minda to set up training centers. In 2019, we partnered with ACC Cement Ltd. to establish 14 centers near their cement plants to provide skill training in the communities in which they operate. These are win-win partnerships that create a skilled workforce for the industry while supporting companies' community development programs.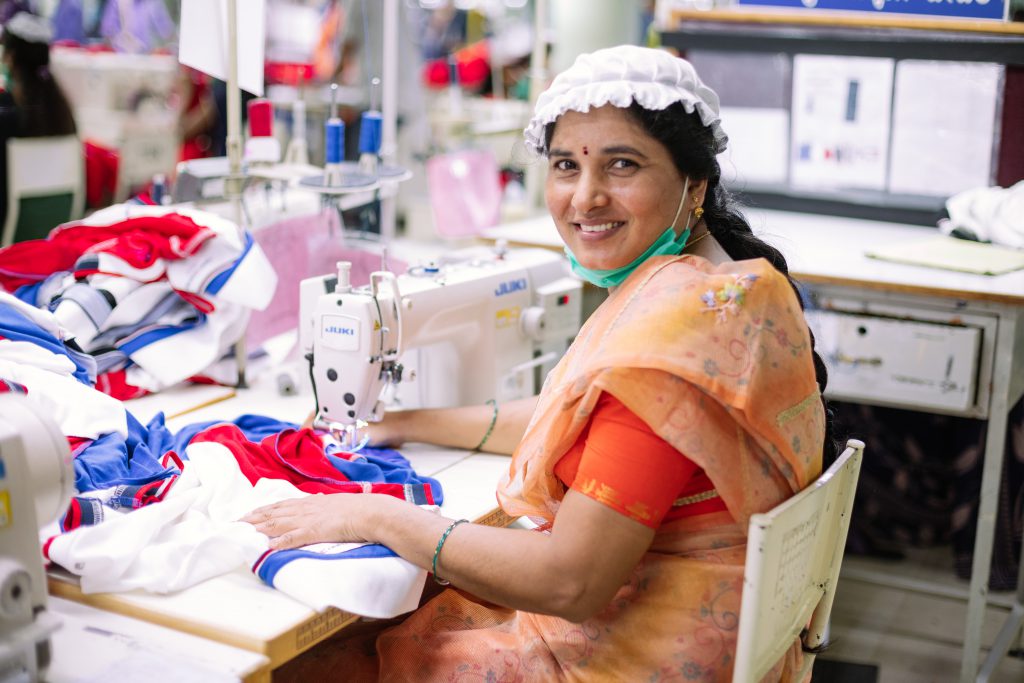 Shahi, with a dedicated Skill Development team of over 200 people, brings several advantages to the skilling ecosystem in the industry. Our training curriculum is continuously updated to cater to the industry and business requirements, ensuring that the trainees are job-ready after the training. In several centers, the traditional 45-60 days technical training is supplemented with soft-skills training (Gap Inc.'s proprietary program – Personal Advancement and Career Enhancement), along with IT and English training. Further, with over 60 factories across 9 states of India, we have a continuous demand for a skilled workforce and through our skill training, we are able to provide guaranteed placement in our factories which is essential considering unemployment after formal technical training is still quite high in India.
One of the barriers for women entering the formal workforce is the lack of opportunities in the labor-intensive manufacturing sector. At a Shahi training center, a woman who has never used a sewing machine can be trained and employed within 60 days. These are often their first formal and stable employment opportunities, which provide a stepping stone for their economic advancement. At a macro level, creating employment opportunities with low barriers to enter can lead to higher participation of women in the formal workforce, which can ultimately boost the GDP by more than 18% by 2025. For example, in Bangladesh a boom in garment manufacturing has increased the number of working women by 50% since 2005.
Gurpreet is a sewing machine operator at a Shahi factory. Most women in her village are not allowed to work due to the deeply entrenched gendered norms requiring women to take care of household chores and children. Despite these expectations, Gurpreet's interest in sewing and commitment to work enabled her to enroll in Shahi's training center in her village in Punjab. She completed the three-month training and got her first job at Shahi after a 11-year sabbatical. This courageous young mother of two, wants to become independent and augment her family income with her earnings.
The continuous support  from my husband and mother-in-law inspired me to take up this  opportunity. I now believe that I can save  some money for my children's education and future. Favorable workplace policies at Shahi are helping me to thrive in the workplace."
Access to skill building opportunities in rural areas is very crucial for women like Gurpreet who want to stand on their own feet and support their family income. However, our responsibility does not stop at just training and creating employment. We recognize that there are other challenges women face – from harassment in the workplace to competing demands at home. Therefore, we are also continuously developing new programs and policies to ensure women continue to work and thrive in the workplace. Within three months of joining Shahi, Gurpreet has been promoted from sewing machine operator to work with the Skill Development team in Bangalore, inspiring hundreds of women and girls from her village in Punjab. She believes that much of her success can be attributed to P.A.C.E., the soft skills training program by Gap Inc. that she attended while working at Shahi.
P.A.C.E. training at Shahi has given me the confidence to communicate my problems effectively. I also encourage other girls and women from my village to get themselves enrolled in the skill training centers to get a formal job and fulfill their dreams.
We view the apparel industry as a vehicle for change to increase employment opportunities for millions of women like Gurpreet. This is why we have partnered with the Ministry of Rural Development (Govt. of India) and Good Business Lab, a social innovation lab incubated at Shahi, to study the impact of setting up skill training centers on the overall welfare and empowerment of women, both in the household and at the workplace. The findings will be widely disseminated to present a strong case for continued investment in effective skilling programs, particularly in the apparel industry.
In the next 2 years, we aim to scale up our skilling operations to train 15,000 more women.
—
For collaborations on skill development, you can reach out to us on od@shahi.co.in
To learn more about the Good Business Lab study, you can reach out to info@goodbusinesslab.org