Shahi Exports becomes India's first woven apparel and textiles manufacturer to create Cradle to Cradle Certified® Gold products
In a massive step towards the transition to the circular fashion industry, Shahi Exports is proud to be the first woven apparel and textiles manufacturer in India to be awarded Cradle to Cradle Certified® Gold under Version 3.1, a globally recognized measure of safer, more sustainable products made for the circular economy. The collection of products that have received this certification is called 'Arth' ('Meaning' in Hindi) and comprises women's dresses made for C&A. 
"We are grateful to our partner C&A for working with us to create this truly innovative, first-of-its-kind, circular product. At every step of the design process, C&A and Shahi worked together to find the right alternative materials, chemicals, and other raw materials to achieve the Cradle to Cradle Certified® Gold level."

– Ruchi Asija, Vice President, Marketing, Shahi Exports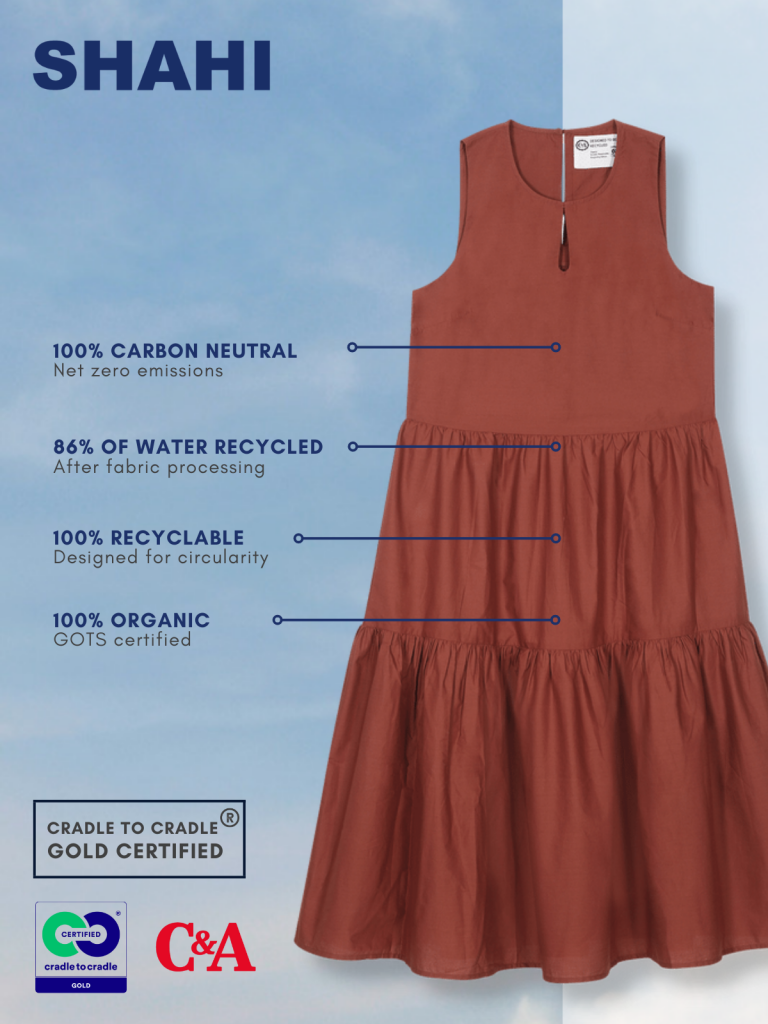 Cradle to Cradle Certified® is awarded by the Cradle to Cradle Products Innovation Institute, a global non-profit dedicated to powering innovation for the circular economy through products that have a positive impact on people and the planet. Product designers, manufacturers, and brands around the world rely on the Cradle to Cradle Certified Product Standard as a transformative pathway for designing and making products with a positive impact on people and the planet. This certified product standard is rooted in the Cradle to Cradle® design principles established by William McDonough and Dr. Michael Braungart. 
To receive certification, products are assessed for environmental and social performance across five critical sustainability categories: material health, product circularity, clean air & climate protection, water & soil stewardship, and social fairness. The product is assigned an achievement level (Bronze, Silver, Gold, Platinum) for each category. Shahi has achieved a Platinum performance level for Material Health, and the Gold level on the other four standard categories. The lead assessment body for this process was Eco Intelligent Growth (EIG) and the material health assessment body was MBDC. 
The fabric for the 'Arth' collection was made at Shahi's weaving mill and the garments were stitched at our apparel factory. The entire collection is made using Global Organic Textile Standard (GOTS) certified organic cotton, more than 96% of which is rapidly renewable cotton. Further, 86% of the water used in fabric processing was recycled at our mill having Zero Liquid Discharge. The finished products are 100% carbon neutral. The products are made keeping the principles of circularity in mind and are 100% recyclable. 
"The Arth collection is a powerful example of how suppliers and brands can work together to design and create materials and products that meet shared objectives for circularity and sustainability," said Christina Raab, Vice President of Strategy and Development for the Cradle to Cradle Products Innovation Institute. "By achieving one of the highest levels of Cradle to Cradle certification for the collection, Shahi Exports is not only demonstrating the scope of opportunity for supplier-brand partnerships but also the vast innovation and leadership potential of India's textile mills."
The Global Sourcing & Sustainability team at C&A said, "Shahi continues to be a steadfast strategic partner for C&A and a driving force for innovation across the global fashion supply chain. When we began bringing Cradle to Cradle Certified® products to market it was clear that Shahi would be a key partner in scaling Cradle to Cradle across categories. For a product and supply chain to become Cradle to Cradle Certified®  it takes an incredible amount of detail and commitment. Most of all, however, it takes supply chain partners with a deep understanding of sustainability, innovation, and their importance to customers, brands, and suppliers. Shahi is a leading supplier in this regard and we are deeply grateful for their continued partnership in driving circular innovation. We look forward to working together to drive Cradle to Cradle Certified® innovations and other ground-breaking sustainability initiatives forward."