Sustainability Spotlight | The classic blue denim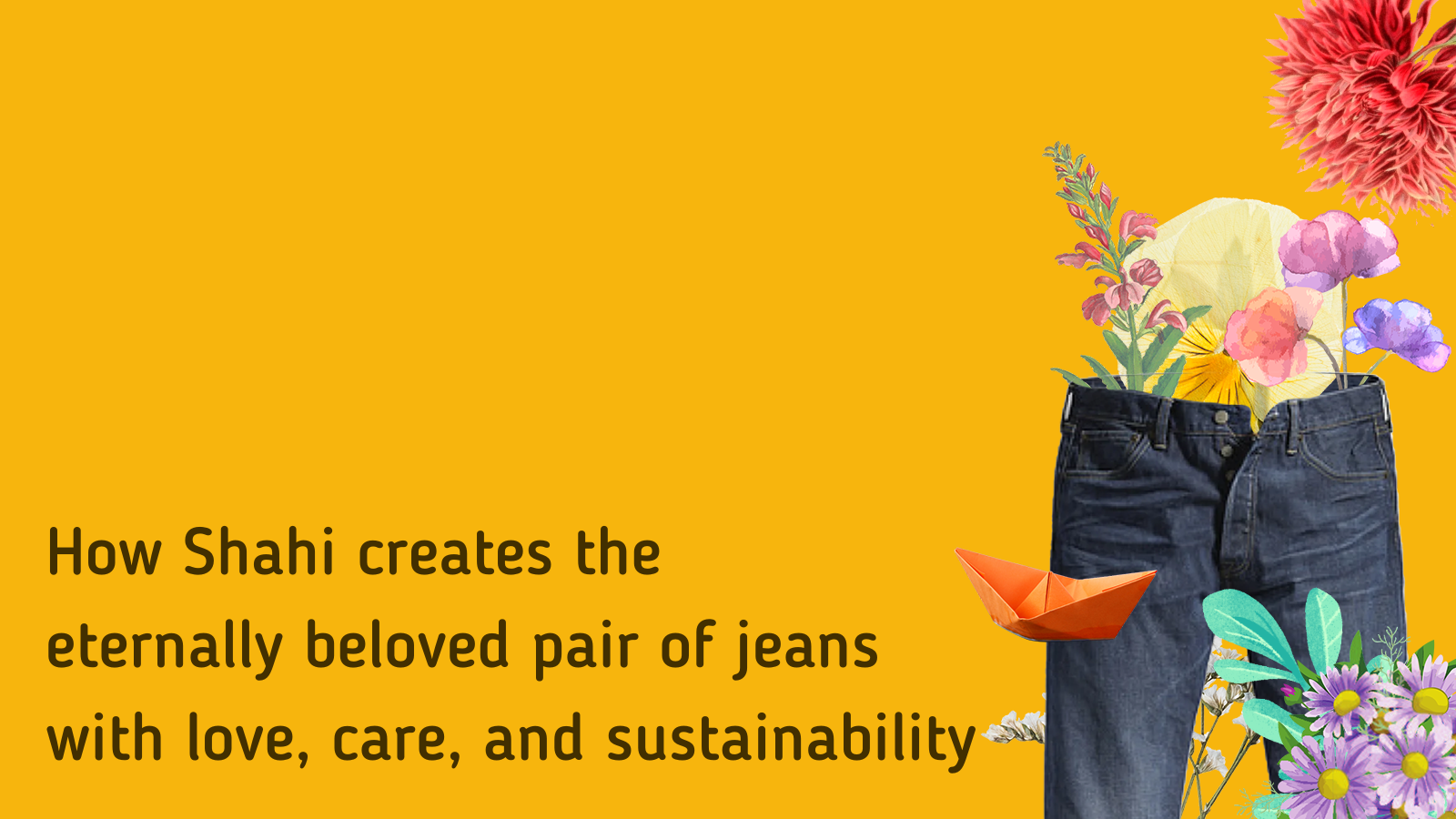 To name a piece of versatile, durable, and timeless clothing, very few would hesitate to pick the go-to pair of blue denim. Tracking the evolution of denim in the fashion industry, it is often surprising to people to know that the initial design for denim was made for miners and seafarers. The durability of denim made it an instant favorite for all heavy lifting work in the 1800s.
Over time, denim has crossed oceans and continents to lodge itself firmly in fashion history. What evolved from a completely practical utilitarian trend turned into a rebellious cultural shift in the 1960s and eventually a lifestyle choice. (read: The history of Denim Jeans).
But as it transforms from workwear to casual, how did manufacturers re-create that same worn-down look? 
Wearing The Pair Down
Denim washing and finishing is a highly resource-intensive process. Conventional methods of mass production also use a large amount of water, chemicals, and energy to produce a pair of jeans.  To find out more, we took a trip to Unit 23, Shahi Exports' Denim Unit in Bengaluru.  
Pulling off Denim
Shahi set up the Denim Division in 2010, with Unit 23 in Bengaluru. Currently, Shahi has two denim garmenting units (Units 1 & 23) and a laundry with a production capacity of 12 million pieces per year. Since then, this newest addition has led the growth towards sustainable operations internally and with the customers.
"Judiciously utilizing the four essential resources— chemicals, energy, water, and our people define sustainability for us. Sustainable operations are not limited solely to environmental factors, but the well-being of our workers is equally important," Mr. Nandheesh Gowda, General Manager, Laundry.
Shahi has adopted the Laundry 5.Zero strategy that has been predicted to revolutionize the denim industry.
We bring together cutting-edge technology from all over the world to make a truly global product, not just fashionable but sustainable.
Scrubbing the Chemical Out 
Rethinking the production from the design stage, keeping in mind circularity, is key to ensuring the sustainability of the product. The design team at Shahi starts working from the initial stage– design to minimize the environmental impact of the production. We opt for lighter shades of denim which require a light wash. They demand significantly shorter washing cycles, thus reducing the environmental impact.
A pair of jeans can be 'weathered or distressed' using wet and dry finishing processes. Traditional methods of distressing the fabric require workers to scrub them by hand. As the scrubbing sheds layers of blue dust, it is harmful to workers' health. The finishing process may also require washing with chemicals. Aligning with Laundry 5.Zero, Shahi uses laser technologies to reduce the use of grinders and scrubbers.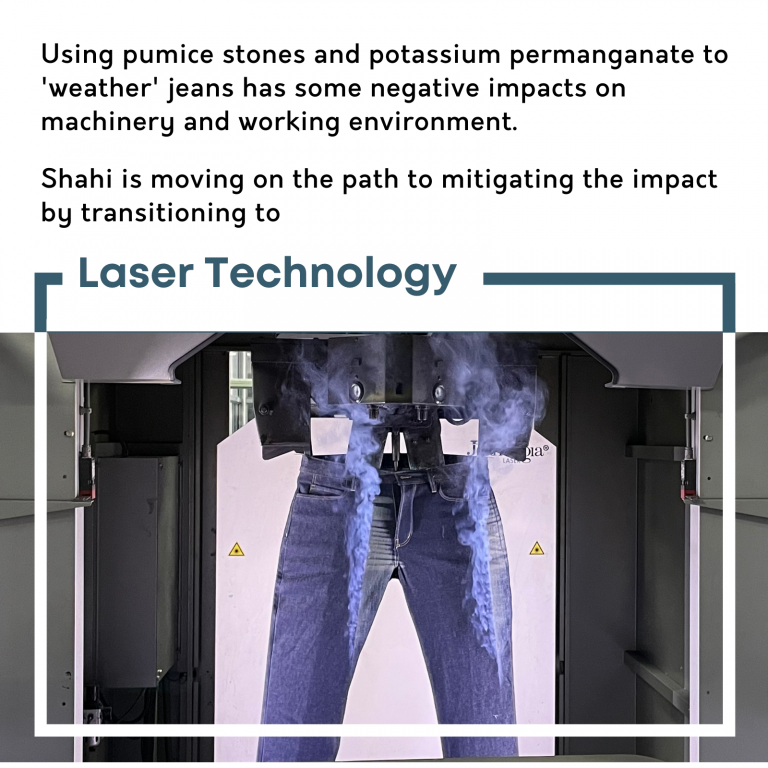 The intensity of the distressed look depends on three major factors: wavelength, power density, and pulse width of the laser beam. A computer inputs the desired design and guides the laser over the fabric to create a fading or distressed look. It concentrates heat to decompose the dye according to the desired wash style.
This novel technique provides an alternative to traditional methods such as acid washing, sandblasting, and using potassium permanganate and therefore helps us create a safe and comfortable working environment for our workers. Additionally, laser technology increases our flexibility, speed, and precision to meet significant production needs.
Shahi has developed a single window to facilitate the purchase of chemicals. It helps us to screen the required information about a chemical before purchasing it. The single window is compliant with international standards such as the Zero Discharge of Hazardous Chemicals Manufacturing Restricted Substances List. It makes sure that we do not use any restricted chemicals harmful to the environment in our production and eases the procedure to procure the chemicals. Streamlining the process also helps Shahi align with the needs of our customers. The larger goal is to protect our production workers, local communities, and the environment from the impact of banned or hazardous chemicals and, ultimately, the consumer.
Shahi constantly collaborates with the best chemical suppliers to better their processes in the Denims Division.
Sustaining the Classic Blue
The classic blue in denim is created through water-intensive washing processes. A significant way to develop a more sustainable operation for producing denim is to focus on its water consumption. Shahi explored technology providers from around the world to bring down our material liquid ratio (MLR) from 1:6 to 1:1.
The principle
e-Flow technology was ideal for reducing water consumption. The technology turns the chemicals into nanobubbles before being subjected to the washing machine. Nanobubbles of air act as a carrier to transmit chemicals into a garment with a minimal quantity of water and zero discharge. This has led to an average of 95% water savings for every denim washed.
Another technology is the G2 Ozone washing machine, which generates ozone from the air to catalyze the indigo fiber dyeing and produces the authentic worn-down look in the desired shade. The water consumed is reduced by 65% and the energy by 20%. The ozone is re-converted into oxygen and released into the air, leaving no harmful by-products.

While reducing water consumption in denim production is essential, it is equally important to reduce dependence on fresh water as much as possible. By installing state-of-the-art effluent treatment plants, Shahi recycles and reuses 100% of its water usage. Our denim laundry achieved the Zero Liquid Discharge (ZLD) standard in 2019. We constantly monitor the water conserved in laundry through our Environmental Impact Measurement (EIM) tools.

Going the Extra Mile on Energy
85% of the electrical energy consumed in Unit 23 is renewable. Additionally, the unit utilizes zero coal for its operations. Shahi set up a solar power plant of 84 megawatts and 9 megawatts of wind power. We aim to suffice 100% of our electricity needs with renewable sources by 2026.  Substituting conventional sources for low carbon and sustainable alternatives for thermal energy is a top priority for Shahi.
We have several initiatives running across the units, for example— converting most of our high-speed diesel-fired boilers into agro-waste or PNG-fired boilers to generate steam.
Our newer units are built to incorporate green building principles to minimize energy consumption and leverage natural lighting on the shop floor. All the new units harness sunlight to illuminate our shop floors, and the architecture facilitates natural ventilation that reduces heat dissipation from electric lighting fixtures. The reduced temperatures on the shop floor impact our workforce and their environment directly.
Synergizing People and Resources
People and their well-being are integral to sustainability at Shahi, and worker well-being focuses on providing a safe and healthy environment and creating opportunities for growth. 
In a study with the Good Business Lab, we observed that Replacing fluorescent lights with LEDs reduces energy consumption by roughly 85%, reducing the average indoor temperature by 2.4°C. Incidentally, a transition to LED lights also increases the workers' productivity on the shop floor. 83% of all the lights at Unit 23 comprise LED lighting. We launched a campaign to replace conventional T8 task lamps with LED lighting for individual workers'.
What does it really take to pull it off?
With conscious consumerism on the rise, and the industry grappling with limited resources, the beloved go-to pair of denim will have to transform itself into its most low-impact versions that require minimal resources — and also maximize its life cycle. This means that manufacturers and brands have a pivotal role in revolutionizing the industry right from the designing stage. 
Shahi invested significantly in state-of-the-art machine equipment to upgrade the factory and laundry facilities. To name a few of our many initiatives in the Denims Division— 
Laser machines from Jeanologia, 

Chemical auto dosing, 

Using Ozone, e-Flow, and other water-efficient technologies,

Developing a single-window chemical purchase window to prevent the entry of restricted chemicals, and 

Collaborating with the best chemical suppliers.  
Making it even better
But, Shahi is not stopping here. Our teams constantly look for ways to produce denim wear, maintaining Laundry 5.Zero principles; or synonymously 'The Jeans of the Future.' The key is to find the perfect set of equipment and technologies that complement each other in energy, water, and chemical consumption. 
We are working on additional strategies like: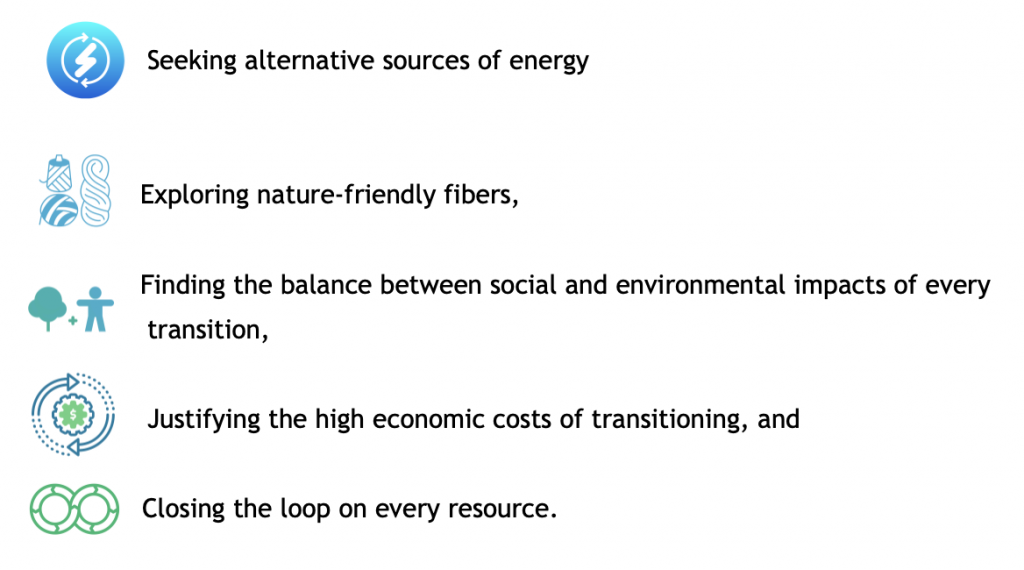 Unit 23 showcases sustainable operations at every step of the way and progressively eliminates processes that degrade the environment in bringing a piece of denim alive. We look forward to what the future of the denim industry beholds.