How Shahi created a first-of-its-kind circular dress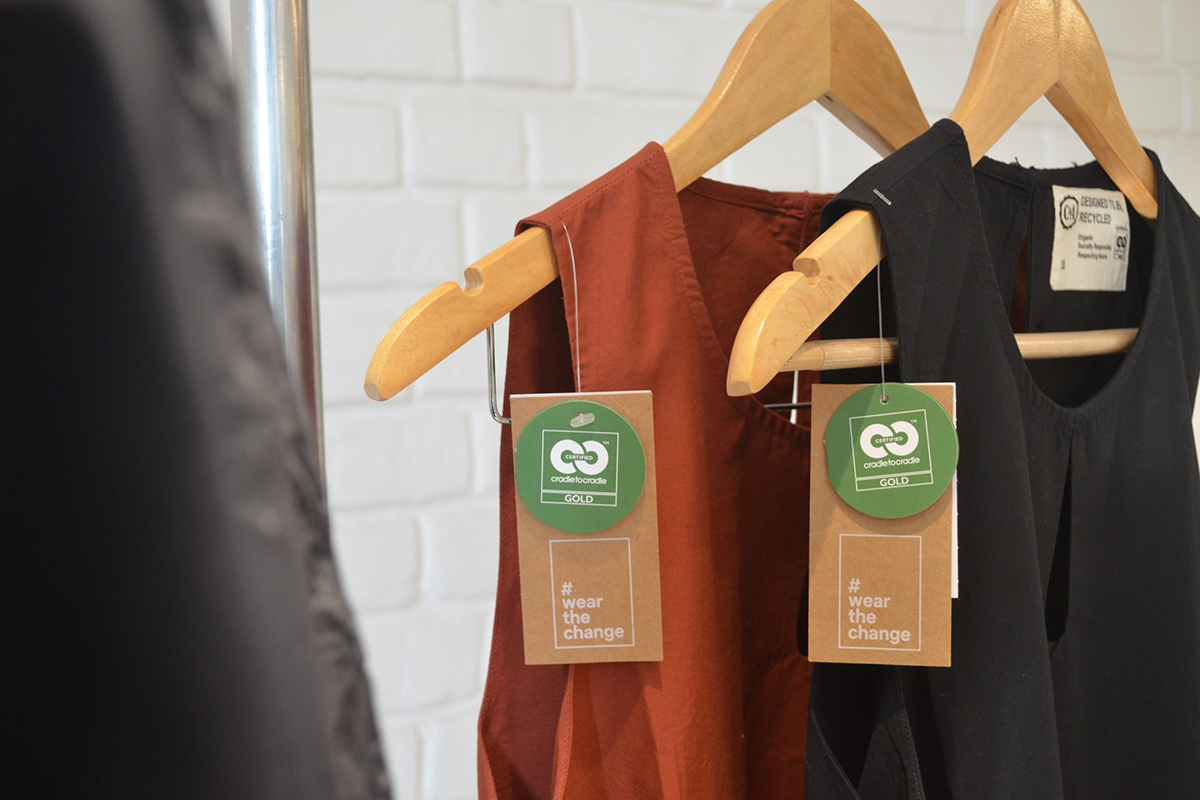 Inspired by nature, held by three pillars: innovation, design, and chemistry. 
Does waste equal food? In the pre-industrialized economy, products had a natural biological cycle where the inputs naturally decomposed and served as nutrients for the planet. Products made out of metal were refurbished to make new ones. All the inputs derived from Earth ideally should go back to it. But, today, does waste still equal food for the planet? How do we envision growth in today's world while prioritizing the environment? Is there a way we can manufacture products aligning with the growing population and their lifestyle choices without harming the environment, in fact, by nurturing it?
On asking a few people about what Cradle to Cradle is, I received a myriad of answers. Someone said it is probably a place where a baby sleeps. Some others hit it a little closer: a process for people to know how a product is truly made; a benchmark for sustainable products; and a design philosophy that genuinely outlines the lifecycle of a product focusing on the recycling mechanisms. 
Anant Ahuja, Head of Organizational Development at Shahi, says, 
"Cradle to Cradle represents a way to make products that are in tune with nature and manufactured sustainably. The resources that are required to manufacture must be replenished and extracted ethically. You can imagine a world where we can produce as much as we want, and the reason we can do it is due to the positive impact and the life cycle of the product. We turn the waste into fuel."
The Concept
Cradle to Cradle is a revolutionary design concept integrating two distinct fields —  design and science to achieve a high level of sustainability. By focusing on doing 'more good than less bad,' Cradle to Cradle Certified® products create a positive ecological impact rather than simply minimizing their environmental footprint. The goal is not just to substitute harmful chemicals and other raw materials with more sustainable alternatives but also to rethink the lifecycle of products — from design to disintegration. The emphasis is on increasing durability. Once disintegrated, the value of the materials used in production is not lost but rather preserved and brought back to the loop.
Every raw material used counts. Each material holds immense value and should not end in a grave. 
Five different aspects measure the holistic development of a Cradle to Cradle Certified® product: material health and re-utilization, renewable energy, carbon management, water stewardship, and social fairness. Each of these is given an achievement level based on the guidelines ranging from Bronze to Platinum. The products based on these principles can range from buildings and construction materials to cosmetics and textiles. 
'Arth,' what does it mean?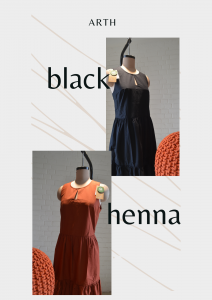 In late 2018, Shahi was presented with an opportunity to become India's first woven apparel and textiles manufacturer to create Cradle to Cradle Certified® products with our 'Arth' collection in partnership with C&A. 
Arth symbolizes our responsibility towards the planet in a quest to find meaning behind 'doing more good than less bad.' Shahi received the Gold achievement level owing to its holistic performance on the parameters set by the Cradle to Cradle Products Innovation Institute. Everything that comes from the Earth must return to it. 
"The concept of Cradle to Cradle presents an opportunity to present our commitment towards circularity: everything that we utilize goes back safely to the environment. It was a pioneering step to add such product manufacturing capability to our organization.  The dress (product) has motivated us to explore better raw materials and technologies; as it is also backed by a continuous improvement principle along with zero environmental impact and elimination of waste generation concept. We hope that we continue to work on exciting and innovative projects such as this one with our other stakeholders."

– Rajneesh Rai, General Manager, Environmental Sustainability and Laboratory.
In this article, we share our learnings, insights, and the benefits, and opportunities for building our first Cradle to Cradle Certified® product by looking at the overall product development, materials, resources, social fairness, and the way forward.
Rethinking product development
Our product's design and production processes are based on a circular economy model. At the end of its lifecycle, a  Cradle to Cradle Certified® product is returned to the biosphere either as compost or reprocessed to make new products. Here is how we took on the opportunity to change our production pattern for this collection.
Design
Designing a Cradle to Cradle Certified® product demands many resources, dedication, perseverance, and openness to explore new areas. It took us more than 18 months from the inception of the product to deliver to our brand partner  C&A. This period also includes the certification process for our facilities. The process has been significantly different from any other product we have manufactured. The changes in the processes also made us appreciate the speed of adaptation and the appetite for innovation at Shahi.
When we started designing the product from scratch, our progress was slow due to the lack of knowledge and resources available, coupled with the nationwide lockdown in early 2020. We began with a series of questions on which resources and techniques can be used in a Cradle to Cradle Certified® dress. They revolved around printing over the product, label of the garment, and use of Cradle to Cradle Certified® raw materials such as buttons and thread. The journey was made more accessible and collaborative with active involvement from C&A and the Cradle to Cradle Products Innovation Institute. 
The Arth collection sports a relaxed mid-length dress with buttons made from natural coconut, which breaks down with a biological cycle. The dress made us go back to the basics of designing. The boundaries put on using certain chemicals, dyes, and trimmings helped us become more innovative in constructing the Cradle to Cradle Certified® dress. The ideation process required us to extend our imagination beyond the aesthetics of the design. We emphasize how easily the product can be disintegrated and put back in the cycle without losing any value. Keeping in mind the core principle of Cradle to Cradle Certified®, the focus has been to balance the dress's design and durability. For this reason, the dress has a clean finish with minimum accessories. 
Sona Mishra, the designer who developed the dress, says, "To make a Cradle to Cradle Certified® product, you must go back to your basics: silhouettes, minimal accessorization, and use of Cradle to Cradle Certified® raw materials, dyes, and auxiliaries. We were really able to bring out the essence of a truly circular product with this process." 
Material
The fabric was made at our state-of-the-art Woven Processing Division (WPD) in Shimoga using 100% Global Organic Textile Standard certified organic cotton. More than 96% of this cotton is rapidly renewable, and 86% of the water used in the fabric processing was recycled. The finished products are 100% carbon neutral and recyclable. The brand tag on the products was designed in-house using recyclable materials and procured from a verified vendor.
The Cradle to Cradle Certified® Product Standard lists restricted chemicals to avoid while manufacturing the products. An official Restricted Substance List indicates the maximum concentration of each restricted substance allowed in the products. 
The material health and re-utilization category ensure that Cradle to Cradle Certified® products uses chemicals that are: 
Safe for society and the planet.

It can be further recycled or bio-degraded through biological and technical cycles. 
To avoid contamination with other chemicals, we diligently cleaned all the machines and equipment to be used to produce the
Arth collection. The production lines were separated and clearly marked for Cradle to Cradle Certified® production. We used alternative chemicals accepted under the Cradle to Cradle Products Innovation Institute guidelines. Making a Cradle to Cradle Certified® product definitely demands more investment in raw materials. The key is to find the right blend that synchronizes together. Due to limitations in using chemicals for dyeing, we went ahead with two basic shades for the fabric: Black and Henna.
 evaluated the Material Health Certificate for products that adhere to restricted substances.
The material chemistry was independently assessed by MBDC Laboratory, USA on restricted substances and impacts on human health and the environment.
Our product developers, designers, and the environment team spent several months inventorying, assessing, and optimizing the material chemistry to achieve the platinum standard on material health and material re-utilization category. A platinum standard implies a material re-utilization score of 100, and the product is actively being recovered by a technical or biological mechanism. 
The Footprint
The Cradle to Cradle design principle ensures that the products utilize renewable energy to minimize the release of greenhouse gasses along with efficient use of water during manufacturing. Shahi achieved the gold standard under Renewable Energy and Carbon Management and the platinum standard under Water Stewardship.
A significant factor in achieving this standard has been the state-of-art machinery available at the Wovens Processing Division that optimizes resource consumption throughout the entire process. The garments were made in two units (Unit 9 and 28) that successfully qualified the environmental and social requirements as laid down by the Cradle to Cradle Products Innovation Institute.
Energy
The Wovens Processing Division facility in Shimoga runs on the power produced by our solar grid in Bellary, allowing us access to 96% renewable energy during the production process. 
Water

The fabric was made in our processing mill, a Zero Liquid Discharge Facility.
Carbon Emissions
Cradle to Cradle certification, in many ways, is a step towards transparency. Accounting for the entire production process to make an authentic carbon neutral product, we purchased carbon credits to balance out the emissions for our boiler and garmenting units which now operate on renewable energy. 
Labor and Social Fairness
At Shahi, worker wellbeing is of utmost importance. Worker wellbeing focuses not just on providing a safe and healthy environment but also on creating opportunities for their growth. Shahi was the first manufacturer to co-create and pilot Gap Inc.'s P.A.C.E. program. Inspired by the immense power of the program, Shahi co-developed STITCH with  Good Business Lab to enhance the core competencies and capacities of the supervisor to manage their key roles effectively. Our homegrown tool, Inache, is another example of our commitment to ensuring a healthy work environment by enabling workers' voices. Inache is an anonymous two-way communication platform where workers can call or send an SMS about their complaints, grievances, suggestions, or questions. It goes to a central dashboard and then to the designated factory staff for response and resolution. It assists us in continuously monitoring and improving the grievance redressal system that facilitates transparency and a connection between the management and the workers. 
These initiatives contributed to our achievement of the gold standard in the social fairness category. 
Fair working conditions and respectful treatment of workers go hand in hand with any sustainable and circular venture. The Cradle to Cradle 4.0's social fairness standards has emphasized ensuring a safe and conducive work environment. The broader focus areas include sound infrastructural arrangements, community engagements, and career growth. These parameters encourage responsible business practices and strong ethics across all stakeholders involved in the supply chain. Social fairness is analyzed under five distinct parameters: Management, Human Rights, Labor, Environment, and Anti-corruption at the facilities.
Building sustained relationships 
C&A's support and eagerness to collaborate in creating this collection revealed how important the role of brands as strategic partners in this effort to transition into a circular economy is. The Global Sourcing and Sustainability team at C&A said,
"Shahi continues to be a steadfast strategic partner for C&A and a driving force for innovation across the global fashion supply chain. When we began bringing Cradle to Cradle Certified® products to market, it was clear that Shahi would be a key partner in scaling Cradle to Cradle across categories. For a product and supply chain to become Cradle to Cradle Certified®, it takes an incredible amount of detail and commitment. However, it takes supply chain partners with a deep understanding of sustainability, innovation, and their importance to customers, brands, and suppliers. Shahi is a leading supplier in this regard, and we are deeply grateful for their continued partnership in driving circular innovation. We look forward to working together to drive to Cradle Certified® innovations and other ground-breaking sustainability initiatives forward."
Shahi possesses the flexibility to direct resources in testing and refining sustainable and circular products. This allows for a co-creative space for research-based collaboration between brands and suppliers that holds the potential to drive change in the apparel and textiles industry.
Doing more good than less harm
The Arth collection has provided us with lots of learnings. The most crucial is that developing circular products at scale is possible. The need of the hour, is to encourage more conversations and awareness around Cradle to Cradle Certified® products. The demand for such a product must be established from a strategic point of view to build a circular economy collaboratively. Brands and customers form an essential part of driving this demand.
Shahi is looking forward to working with more and more brands on Cradle to Cradle Certified® products and getting closer to bettering our environment and production methods with each step. Its design principles enable a supplier like us to create products while nurturing the planet— doing more good than less harm. With our certified mill, we hope to collaborate with more and more sustainability-driven brands to create products that preserve their value. 
Our journey towards a sustainable supply chain does not end here. We have been spearheading textile and garment innovation in India with projects like growing cotton with Superabsorbent Polymer (SAP) in partnership with HKRITA and recycling pre-consumer cotton waste with Usha Yarns, among others.
For business inquiries on Cradle to Cradle Certified® products, please contact: od@shahi.co.in