Puneesh Lamba honoured as the IoT ICON at the CIO Power List 2022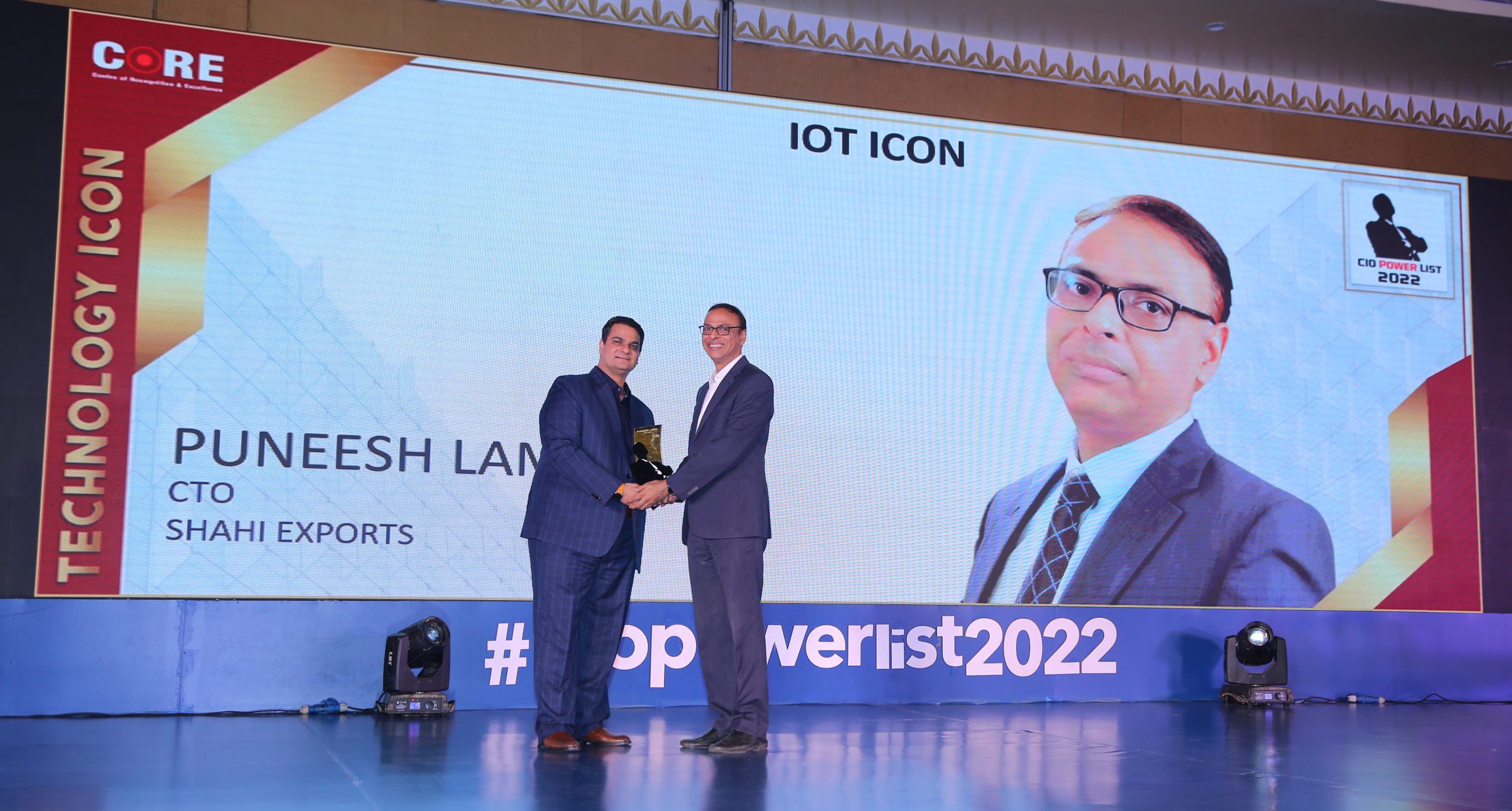 Puneesh Lamba, Chief Technology Officer of  Shahi, received the recognition for IoT Icon in the CIO Power List 2022. The CIO Power List, presented by CORE Media, recognizes India's most influential Chief Information Officers (CIOs), IT Leaders, and Digital Leaders. They have demonstrated extraordinary vision and outstanding work in the last year in enterprise technology. They have leveraged technology to improve processes, customer touchpoints, and experiences.
An exclusive ceremony was held on 20th-21st May 2022 in Mumbai, honoring over 130 CIOs across two main categories: Business Icons and Technology Icons.
Business Icon recognitions are conferred upon select CIOs/IT Leaders from 23 categories and across 13 different industry verticals, while Technology Icons upon leaders across 20 different technology categories.
"Congratulations to all the CIO Power List 2022 winners. In the new digital economy, these CIOs and Digital Leaders are at the forefront, driving transformation that enables organizations in staying ahead with innovation for growth and success in the global marketplace. The CIO Power List recognitions are bestowed upon visionary leaders. It is our privilege to honor them as they rise above disruption and establish IT as the biggest driving influence on enterprise transformation and new business models", said Anoop Mathur, Founder, and President, CORE Media.
Making the Power List
The CIO Power List 2022 awardees are finalized based on an algorithm considering a wide range of data collected on CIOs and Digital Leaders across multiple channels. This includes data collected from their online reputation, business publications, and features, combined with data on awards, honors, and recognitions won; achievements, a random sampling of social media engagements, and a national survey of peer CIO review. Additionally, there are inputs from the CIOs themselves on their key moments in the past year.
From the CTO
"This award is the testimony to the fact that Shahi has taken huge strides in digitizing its operations. Solving business problems by leveraging technology has become a practice in Shahi; hence we are a more productive, efficient, and progressive company. Our "Digital First" approach has helped immensely in delivering value to our customers and employees." – Puneesh Lamba
Puneesh is responsible for building Shahi's IT & Digital strategy and execution. He carries 28 years of experience as a Senior IT & Digital Leader across industries in India, the USA, and Europe.  He has worked for multinational companies like General Electric/Genpact and TATA Consultancy Services and Indian Conglomerates like Escorts Ltd., Punj Lloyd, CK Birla Group, and Ballarpur Industries.
As one of India's pioneers in embracing disruptive technologies like Artificial Intelligence, Robotic Process Automation, the Internet of Things, and Predictive Analytics, Puneesh is a proponent of digital means to enable business strategy growth. He has won many prestigious awards like CIO100, CIO200, CIO500, Power List, and CIO 1000. He is also a jury member at NASSCOM, Frost & Sullivan, and 9Dot9 media.