The Manufacturing Perspective | 2022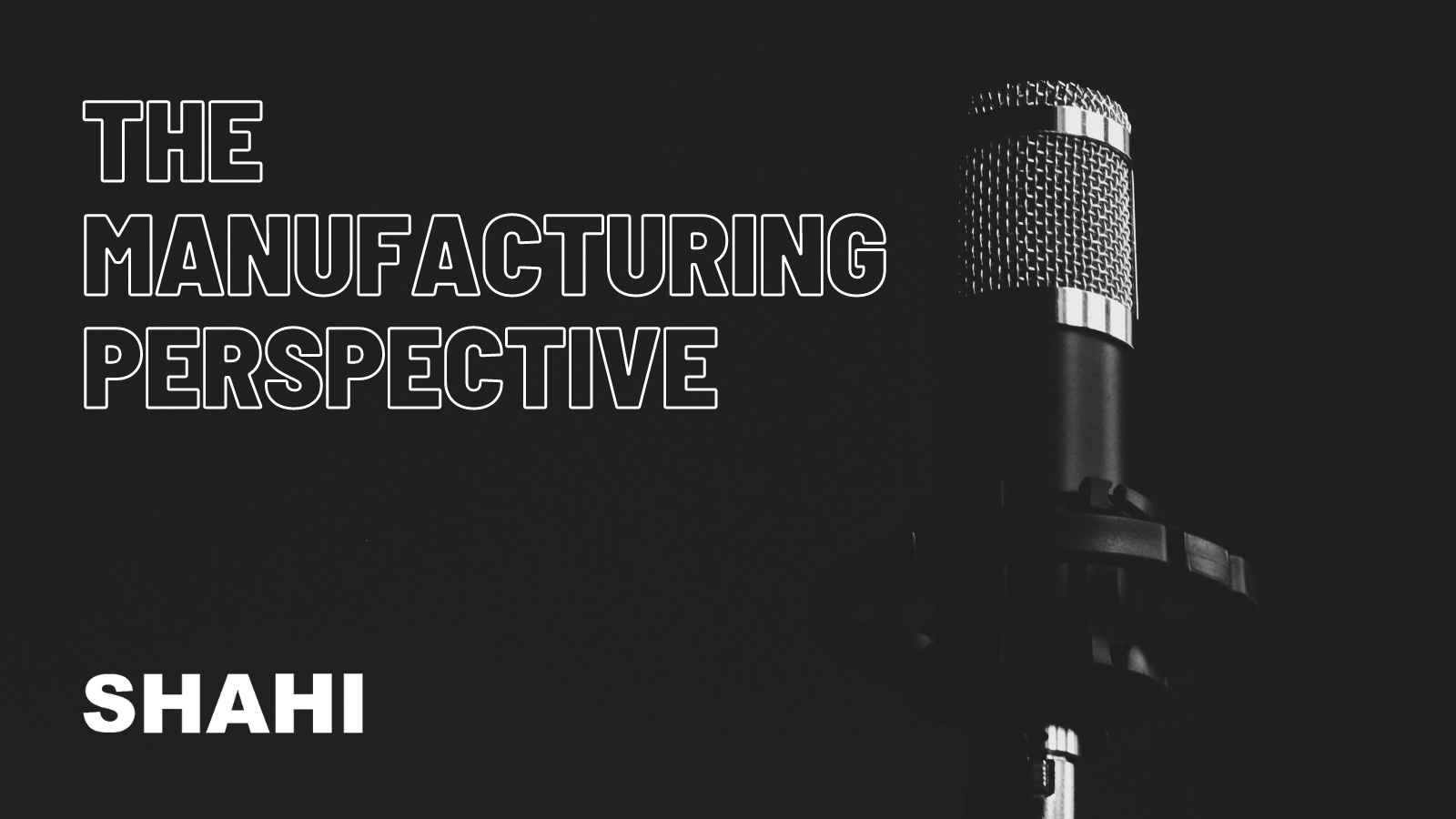 Insights from speaking engagements in 2022
At Shahi, we believe in sharing our experiences and learning with all the stakeholders in the fashion industry and beyond. This is an ongoing post to share insights from our speaking engagements in 2022. Read insights from previous years' engagements: 2021, 2020.
November 23 | Nordic Circular Summit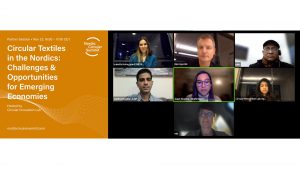 Gauri Sharma, Senior Manager, Communications and Sustainability Innovations, represented Shahi at the Nordic Circular Summit 2022 side event hosted by Circular Innovation Lab ApS and Lifestyle & Design Cluster. In the session 'Circular Textiles in the Nordics: Challenges & Opportunities for Emerging Economies,' she spoke about the unique positions suppliers hold in the ecosystem to drive change in ripple effects across brands and regions. In the transition to a circular economy, she emphasized the importance of more meaningful relationships between brands and suppliers and alignment of their sustainability targets with sourcing practices. 
Gauri shared, "There's growing realizations that Manufacturers are the lynchpin to achieving the industry's circularity and sustainability goals because manufacturing is where the majority of the environmental and human resources are utilized – one supplier making a change has ripple effects across brands and regions."
November 10 | Hohenstein Sustainability Conclave
Rajneesh Rai, Senior General Manager from the Environment Sustainability and Laboratory Management team of Shahi, was a panelist in the session on 'Implementation of Sustainability as a core element for the future of Textile Industry' at the Global Sustainability Conference by Hohenstein Group. On this panel, he shared key insights on mainstreaming sustainability, the importance of industry standards, and Shahi's focus on chemical management.
November 08 | UNEP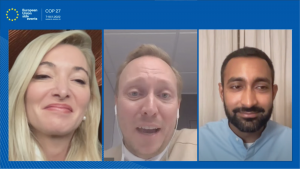 Shahi participated in an EU side event during COP27, organized by UN Environment Programme and Global Fashion Agenda along with H&M, on the topic: "Towards a net positive textile industry by 2050 – setting ambitious targets and inspiring leaders."
We emphasized the need to place equal importance on people or social sustainability when creating industry-wide roadmaps. Anant Ahuja, Head, Organizational Development, shared, "Social challenges can be hard to diagnose and measure, and therefore may not get as much attention as environmental ones. The challenges faced vary depending on the region. For example, India has the largest proportion of women who are anemic, a health issue we should be taking seriously and prioritizing. The complexity and specific context of social challenges should not deter us from investing in research and evidence on solutions that work."
November 02-04 | Global Investors Summit- Future of Apparel and Textile Industry In Karnataka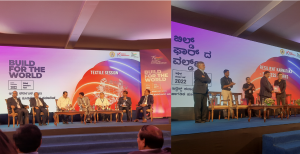 Mr. Raghavan Ramanujam (CEO, Men and Bottoms) and Mr. Ramalingam T (CEO, Knits) spoke on panels discussing Covid Response and Resilience and the future of Karnataka's apparel and textile industry. Shahi established its first factory in Karnataka in 1988 and has grown to 47 factories. Years of engagement have helped us create opportunities for employment and business in the State. 
November 01-02 |  Sustainable Apparel Coalition (SAC) Annual Meeting 2022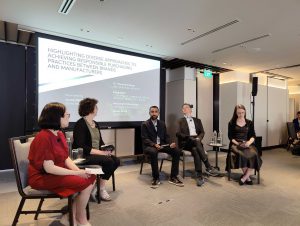 Anant Ahuja was a part of an esteemed panel during the Sustainable Apparel Coalition (SAC) Annual summit alongside Better Buying, Fair Wear Foundation, EILEEN FISHER, INC., and the Coalition of Cambodian Apparel Workers Democratic Union, discussing how responsible purchasing practices (RPPs) between brands and suppliers are key to achieving the industry's sustainability goals. Working on and co-creating RPPs is the next big challenge for all stakeholders to work on together.
At this year's SAC annual summit and Global Fashion Agenda summit (Singapore Edition), collective action and alliances for a new era remained a key underlying theme, cutting through conversations on all topics ranging from decarbonization to wages. The time for collective action is now.
October 07 | World Cotton Conference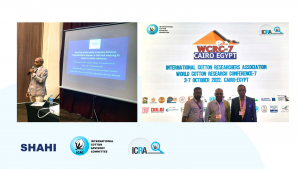 Mr. Ramakrishna Kuruba, Senior Manager of Agriculture at Shahi, presented our study on 'Recycling textile waste to developing Cellulosic Superabsorbent Polymer and analyzing its impact in cotton cultivation.' The research indicates that CSAP helps cotton plants retain higher moisture, especially in water-stress areas, resulting in higher yield and productivity. This can potentially increase the farmers' income and revolutionize cotton cultivation in countries like India, where farmers depend on rainfed irrigation for their crops. The study is done in partnership with the University of Agricultural Sciences, Dharwad, and the Hong Kong Research Institute of Textile and Apparel.
September 29 | The MarketPlace Conference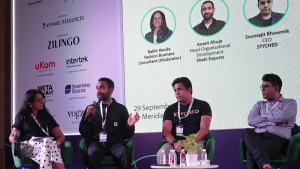 Anant Ahuja represented Shahi at the Marketplace Conference 2022, organized by Apparel Resources. He emphasized manufacturers' unique position in the ecosystem to develop and implement programs that could potentially create exponential social and environmental benefits. He further delved into how at Shahi, sustainability in the supply chain started in its very origin when the company was set up on a small scale to employ women.
July 27 | CenBiz Global, Circular Textile and Sustainability Forum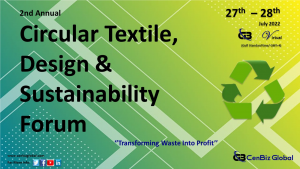 CeniBiz Global's  Circular Textile, Design & Sustainability forum hosted a stimulating Keynote session on 'Building a circular fashion partnership' where Gauri Sharma presented case studies of circularity projects.

She highlighted the critical collaboration among all stakeholders to Transition to a circular economy. In the fashion industry, brands and suppliers must move from transactional relationships to long-term partnerships. At the same time, startups, academia, and ecosystem partners also benefit immensely by working directly with suppliers by gaining direct feedback on how to make their solutions industry-ready. At the fundamental level, buyer relationships must be more transactional and collaborative. By working directly with suppliers, Innovators can benefit from practical feedback and piloting.

June 16 | What ambitious apparel scope 3 targets look like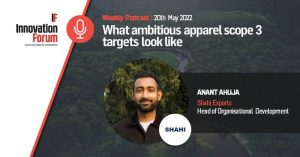 Anant Ahuja talks about the importance of brands' target alignment with their suppliers on a podcast hosted by the Innovation Forum. He takes us through some of the challenges that suppliers face while transitioning to more sustainable practices, including the availability of limited technology and high investments coupled with high payback periods. Shahi has been a pioneer in harnessing solar power and meets 76% of energy consumption through our 84 MW power plant. Anant also puts emphasis on the numerous advantages of a more long-term and collaborative relationship between brands and suppliers. 
Listen to the podcast here: What ambitious apparel scope 3 targets look like
May 31| gLOCAL Evaluation Week 2022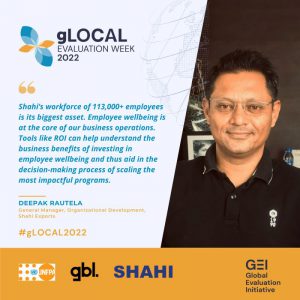 Deepak Rautela, General Manager, Organizational Development at Shahi Exports, spoke at the panel on 'How can qualitative research impact business outcomes' at gLOCAL Evaluation Week hosted by Global Evaluation Initiative and Good Business Lab (GBL). GBL and United Nations Population Fund have developed a Return on Investment Tool (ROIT) to help businesses understand the potential business impacts of health programs on their workforce. Given Shahi's vast experience in implementing worker well-being programs, we were deeply involved in the testing of the tool. 
Deepak shared some key inputs on making the tool industry-friendly by looking at tangible data points like absenteeism and attrition. He also highlighted that not enough had been done to capture how workforce health interventions impact labor-intensive businesses. By pointing out the savings, and other positive outcomes, ROIT has the potential to make a scientific and business case to make impactful interventions a core part of the business strategy. 
May 26 | Hong Kong Fashion Week: Innovative solutions to the fashion industry's sustainability challenges
Anant Ahuja brought a supplier perspective to the panel discussion of Absorboost, a cellulose powder recovered from recycling cotton-polyester blends into a superabsorbent polymer (SAP). He walked us through the dual challenges that SAP solves: growing textile waste and low productivity of cotton. SAP could potentially help suppliers close the loop on textile waste. Along with the environmental benefits, SAP could help uplift those at the beginning of the supply chain – cotton farmers.
May 26 | 54th Inflection Manufacturing Innovation Forum & Awards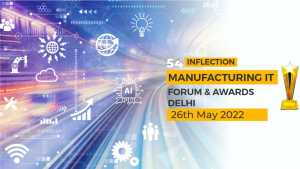 Puneesh Lamba, our Chief Technical Officer, represented Shahi at a cutting-edge discussion on the 'Role of Technology in Industry 4.0 & SMART Manufacturing' at the 54th Inflection Manufacturing Innovation Forum. The forum celebrates the success, innovation, and excellence of top industry IT leaders, experts, & solution providers. Industry stalwarts from Siemens, ONGC, Jindal, and many more shared their success trajectories and roadmaps for the future at the forum organized by Alden Global.
April 27 | IDH- Leadership Roundtable
A refreshing conversation at the IDH Leadership Roundtable Hosted by Daan Wensing, Chief Executive Officer of IDH discussed initiatives to catalyze collaboration and partnership for growing the impact of responsible sourcing in India. Anant Ahuja represented Shahi and discussed how being in the middle of the supply chain holds the opportunity to contribute directly to the sustainability of brands and retailers. The supply chain upwards can benefit through our efforts to enhance our sustainability standards.
April 26-28| Sustainable Apparel and Textiles Conference 2022
April 26
|
'Revised ambition on climate: How procurement must evolve to drive Scope 3 reductions and deliver on the renewed Fashion Industry Charter for Climate Action' 
The panel was a stimulating conversation with Anant Ahuja, Sara Mariani, Chief Sustainability Officer, OTB Group, and Stefan Seidel, Head of corporate sustainability, PUMA. 
Anant spoke about how Shahi aims to reduce scope 3 emissions and scale them up in a strategic manner. He described the challenges for vertically integrated operations on the one hand, while also highlighting how it helps Shahi be more traceable across operations, measuring its impact and taking comprehensive action.
April 28
|
What is still standing in the way of greater convergence around social compliance audits?
Srinivasa Rao Venkatesh, Chief Compliance Officer at Shahi identified some crucial gaps in convergence on social compliance across the industry. He spoke about the lack of inclusivity when looking at the dissemination and embodiment of social compliance standards on the shop floor. Increasing the ownership and stakeholdership of staff and workers needs heightened attention. 
The panel discussed some valuable insights from Holly Menezes, Senior Manager, Communications & Stakeholder Engagement at Social & Labor Convergence Program, and Don Moffet, Director of Social Compliance at Carhartt.
The labor-intensive nature of operations, the general need for permission-based decision-making, human error, and high attrition levels were some of the reasons Venkatesh cited for lack of convergence.
March 29 | IOM and NITI Aayog National Conclave on "Impact of COVID-19 on Migration: Benchmarking of Good Practices and Preparing for the Future"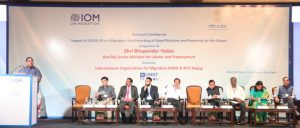 Anant Ahuja spoke at the National Conclave organized by the International Organization for Migration to highlight the critical importance of a 'Multi-Stakeholder Approach' with the Private Sector to support Transformative Change in Labour Recruitment. As migrants make up a significant portion of the workforce at Shahi, Anant described learnings from our comprehensive skilling and recruitment initiatives that go beyond ticking off formal boxes.
For a Migrant Support Center to be successful, it needs buy-in from all stakeholders involved in the supply chain and additional Governmental and Non-Governmental support. Each stakeholder offers a unique perspective. Bringing them together helps achieve a level of efficiency in responding to the needs of migrants.
March 9 | ET CIO FutureNext India Conclave 2022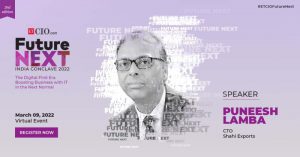 There has been a staggering shift in the priorities for Chief Information Officers as they materialize latent business opportunities to deliver tangible business benefits. As the economy rebuilds itself in a post-pandemic thrust, a digital-first operating model is critical for enterprises. Puneesh Lamba represented how Shahi leverages trust and security to provide an agile and competitive scale of digitalization. He spoke at the 'Leveraging Cloud Beyond Cost Efficiency, Agility' panel alongside – Mahesh Vandi Chalil, SVP – Technology, BookMyShow, Bakshish Dutta, Country Manager, Druva, and Rajiv Sikka, CIO, Medanta moderated by Varun Aggarwal, Editor, ETCIO.
February 21-22 I OECD Forum on Due Diligence in the Garment and Footwear Sector 
Chitra Ramdas, General Manager of Organizational Development at Shahi, spoke at two panels organized by OECD, emphasizing the pivotal role of worker's voice in empowering the workforce and maintaining transparency in processes.
February 21
|
'Women's empowerment in garment supply chains: how to achieve impact at scale.'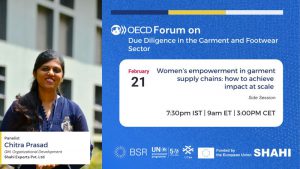 At this panel, Chitra addressed our motivation to continue supporting and empowering our employees, particularly women. Anecdotal references coupled with GBL's rigorous review of evidence to the effectiveness of our programs were critical to measuring our progress. She described how we leverage these programs to make a business case for primary focus areas like worker voice, women's health, migrant support, and skill development.
February 22

'Transparency as an instrument of worker voice, wellbeing, and gender inclusion.'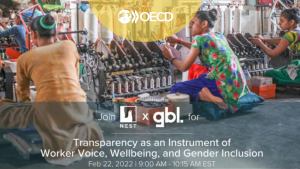 This panel was organized by Empower@Work with panelists from International Finance Corporation, International Labour Organization, Business for Social Responsibility, Care International, and Gap Inc. Chitra presented Shahi's operational philosophy of worker well-being through design thinking, effective implementation, and strategic scale-up of successful pilots. Programs must be designed keeping the needs of our workers in mind and aimed toward building capacity bottom-up. Incorporating their feedback at every stage and making their voice heard in program implementation, and scale-up has helped the team maintain transparency. Programs like PACE and STITCH have helped many of our workers to take a personal interest in helping expand projects by becoming trainers and project planners themselves.