The Recovery Series | Vaccinating a Workforce of 100,000 against Covid-19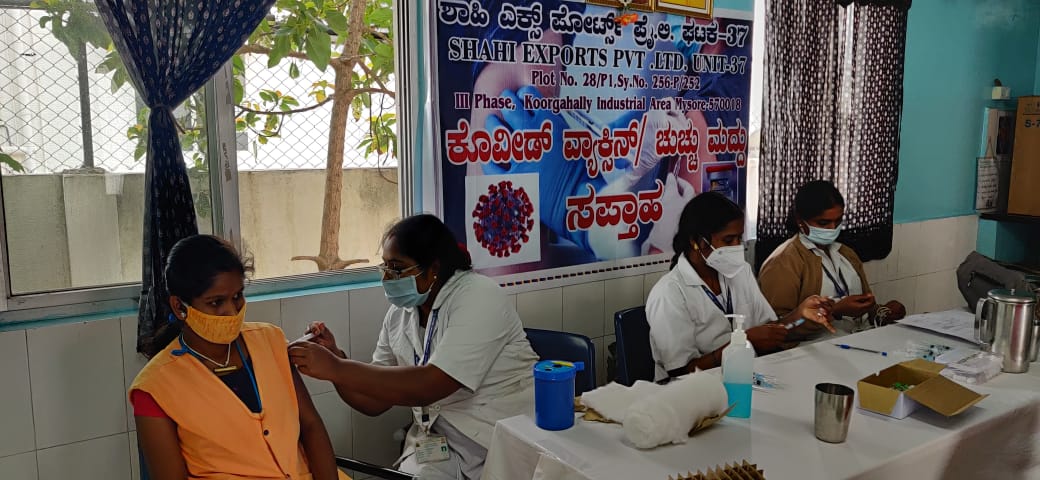 This is the first part of a 3 part series on Shahi's road to recovery from the gruesome COVID-19 pandemic. In this series, we speak to our employees about their experiences of dealing with the pressures of the pandemic and the support they found at Shahi.
India and the Second Wave
In the summer months of 2021, India faced its deadliest wave of the COVID-19 pandemic. The numbers reached a global record of more than 400,000 reported cases in a single day at the peak. As states entered lockdowns, Shahi geared to collaborate with local health services, NGOs, and private and public hospitals close to all its units to arrange vaccination camps and drives for its employees. 
96.7% of the 100,000+ employees at Shahi have successfully been vaccinated with the first dose against COVID-19. More than 70.6% have now been vaccinated with the second dose after the mandatory 84-day wait period. 
As of October 21, 2021, India has delivered 1 billion vaccination doses. It is the second country in the world after China to cross the billion mark. This journey was made extremely challenging by the sheer expanse of its population. The challenges to the vaccination campaign were both logistical and social. Vaccine shortages, misinformation, and even a general fear of getting infected at health centers and camps caused the initial days of the vaccination turn-out to be lower than expected. 
Shahi took a proactive approach to deal with these challenges. In May 2021, the first camps were set up in or close to our units, other drives were conducted in collaboration with local health services. Amidst shortages, the challenge was to maintain a quick turnaround with the arrival of vaccines at the health centers and camps at our units. The human resources team at Shahi employed a continuous notification system over intercoms and made announcements in-person on the shop floors. Our supervisors conveyed the particulars down their lines and counseled workers to allay fears. 
"There were announcements and notices for the camp, but ultimately it was the word of mouth amongst workers that spread the news", said Urvashi Rai, Assistant Manager, at one of our factories in Noida, Uttar Pradesh. 
Combating Misinformation and Providing Counseling Support
A varied number of misinformed beliefs have been rampant in wake of the rising infection rates and deaths due to the novel coronavirus. Communities share widespread skepticism on the efficacy of vaccines and their side effects in the long run— especially for people with comorbidities and pregnant women.
Yogesh, a 30-year-old production checker at our factory in Noida, notes, "I was scared from the after-effects, mainly fever, because of my pregnancy. My mother-in-law strictly told me to not get vaccinated, but I still went ahead with it because I knew its importance. I was only scared of the fever."
While camps were set up in our units to make it accessible and hassle-free to get vaccinated, our HR and medical staff engaged with employees to address questions and talk through any medical complications due to comorbidities. It was an important exercise to undertake to convince workers to avail vaccines.
"Specifically for the pregnant workers, we arranged counseling sessions to build their confidence in vaccination. I conducted these counseling sessions.", said Urvashi.
"Yes, I was scared of the vaccination at first, but since it was important to get it taken for my health and also because there were announcements in the company about the requirement of getting vaccinated, I took it", said Sunitha, from the Industrial Engineering department at our unit in Bengaluru.
Vaccination Days
Prior to the vaccination day, employees were counseled on following safety protocols during the vaccination process such as distancing and wearing masks. On the day of vaccinations, employees were given reminders to carry necessary documents. They were led to sequestered areas in the factory where the camps had been set up following our covid protocols.
"We had to take a token and wait in line for our turn. After getting the vaccine, we were even made to sit for 10-15 minutes to see any immediate side effects," said Madhu, a sewing operator, at Faridabad. "On the day of vaccination, if a worker was not feeling well, they were made to sit in the back and rest."
Our goal was to ensure that workers did not feel burdened at the prospect of developing symptoms in response to the vaccine. Supervisors kept a close eye on any changes in the health of the workers in their lines, and they were able to take leave from work in case of any side effects. We also provided medication for side effects such as fever.
Dr. Leena Thakkar, our Chief Medical Officer said,
"It is a mammoth task to overcome the inertia of reluctance amongst a workforce that is so diverse and harbors migrants. We had to build their trust in the vaccine asserting the benefits of the vaccine over its temporary and treatable side effects. Its efficacy is in the fact that it prevents hospitalization and severe escalation in the event of a COVID-19 infection. Our vaccination drive is the result of effective collaboration between various departments working towards a common goal – vaccination for all."
Workers Testify to Last-mile Access
With such a large population to vaccinate, time is of the essence to disrupt the spread of disease. Having access to vaccination centers and camps close at hand is essential. 
"It is good that we would have had to look for centers, wait in the heat, summers were at their peak that time, and even take a day off from work. All that got easy with the vaccination drive at Shahi"

-Amarpal, Finishing department at one of our factories in Faridabad, Haryana.
Constant counseling and support were also extended to migrant workers from various states working in our factories in Bengaluru through our Migration Support Center. We ensured that they received both doses of the vaccine which enabled them to continue to work safely and support themselves and their families during the crisis.
"Most of the employees are completely dependent on the daily wages, this vaccination drive made us save money and time", said Sunitha, "Otherwise, we would have to go to the local public centers and wait in line for hours together and lose a day of work. I am grateful to Shahi for organizing this vaccination drive and helping employees."
As the world recovers from the loss of lives, disrupted supply chains, and slowed economies in the wake of the pandemic, Shahi has been committed to building resilient response systems. Vaccinating our employees has been the most essential part of our strategy to jumpstart the business and ensure the well-being of our employees.