COVID-19 outbreak: Repurposing our factories to produce PPE for frontline healthcare professionals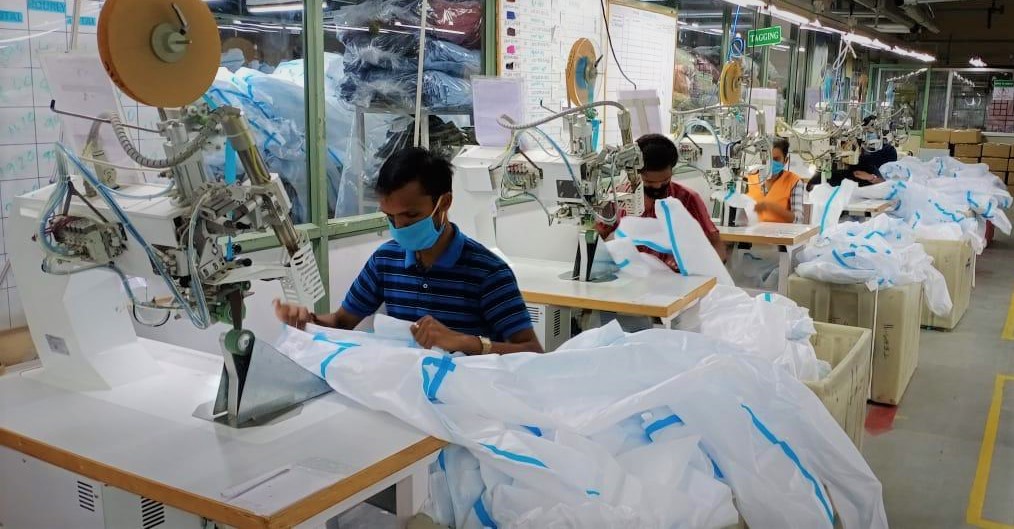 To cater to the rising demand of Personal Protective Equipment (PPE) amid the COVID-19 outbreak, we have produced over 500,000 PPE suits for frontline healthcare professionals, while ensuring social distancing and other preventive measures during the production. We are grateful to our employees who have contributed to the production of these suits.
Hazardous Materials Suits also referred to as PPE suits are critical for the protection of frontline healthcare professionals amid the COVID-19 outbreak. These bodysuits make up 90% of the entire PPE required by the healthcare professionals, followed by N-95 masks, goggles, gloves, and shoe covers. On March 3, 2020, the World Health Organization announced a global shortage of PPE and urged industries and governments to increase manufacturing by 40 % to meet the rising global demand. The Ministry of Health & Family Welfare and the Ministry of Textiles, Government of India (GoI) took immediate action to augment their supply through domestic production. With bulk production capabilities, the Indian garment industry can play a significant role in plugging the shortage of PPE suits. As a leading manufacturer of textiles and apparel in India, Shahi joined GoI's fight against the COVID-19 pandemic by producing 12,000 PPE suits/day in five factories. We started the production on April 6, 2020, with a production capacity of 10,000 PPE suits/day. Despite facing many challenges initially, we were able to produce and deliver over 500,000* PPE suits by June 2020.
Hot air seam sealing machines are critical to the production of PPE suits and we are fortunate to have an adequate number of these machines in our facilities, which were being used to produce outerwear for our American and European customers. All the PPE suits produced by Shahi were being supplied to HLL Lifecare – GoI's nodal agency for procuring PPE. India has scaled-up its capacity to produce 100,000 PPE suits per day. Given the current situation, there is an overall requirement of 1000,000 PPE suits. We are honored to be able to support our healthcare professionals in this testing time and are grateful to all our employees who have contributed to the production of these suits.
(A short video on PPE suits production in our factories, created in April 2020.)
*Editorial Note: This post was originally published on May 13, 2020, and was updated on September 30, 2020.
For more information, please write to us at od@shahi.co.in