Shahi has created a fabric collection with the 'TencelTM Modal Indigo Dope Dyed Fiber technology by LenzingTM. Adding indigo during the pulp stage of fiber helps save 99% water, 99% energy, and 80% chemicals compared to traditional indigo dyeing.
Fabric Slides
A one-step spun-dyeing process incorporates indigo pigment into the fibers. This delivers long-lasting indigo color with greater convenience and multiple environmental benefits.
As compared with conventional indigo dyeing, TENCEL™ Modal with Indigo Color technology typically has a smaller carbon footprint and offers savings in water, chemicals, and energy while producing less waste.

Dyeing is an essential component of making the fabric for a garment. However, it is an extremely water-intensive process. As we strengthen our vertical integration for the future, we are constantly looking for ways to become more sustainable every step of the way. Current textile processes and products bring performance, comfort, and protection, however, there is always room for conserving resources and strategizing to build resilience in our supply chain.
We started exploring processes and techniques which could help in saving water. The strategy has always been to pursue a long-term sustainable and economically feasible process to reduce our water consumption. We came across this waterless technique which had the potential to save huge quantities of water in dyeing.
The Wovens Processing Department at Shahi has started using a completely salt-free sustainable dyeing method for our denim fabrics that is able to produce a denim-like wash-down effect with just a 30-minute softener wash. The technique reduces water consumption by 70% during dyeing and 50% during the washing stage. Power and steam consumption is also reduced by 20%.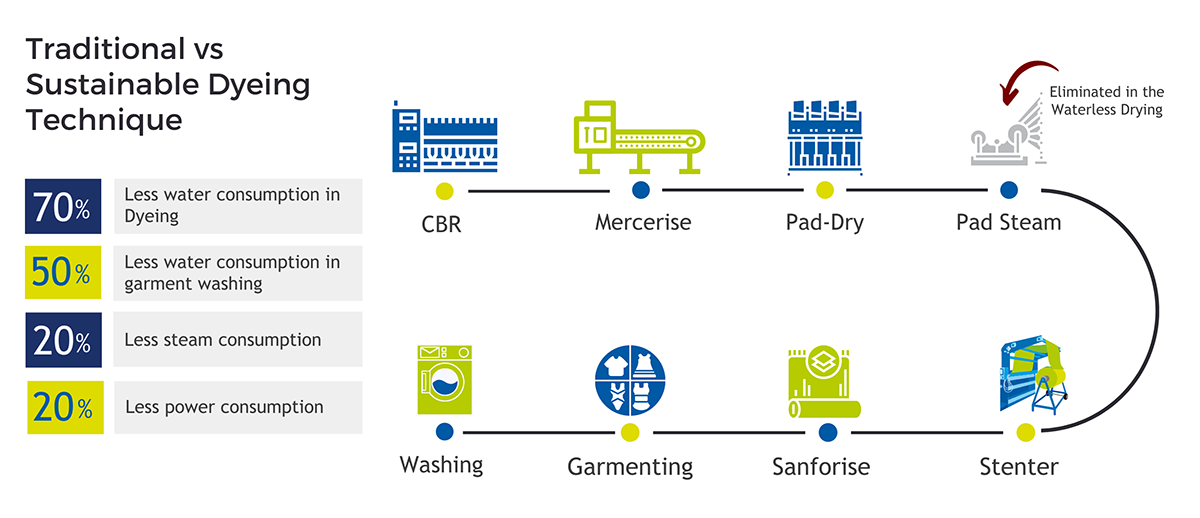 The team conducted exhaustive lab stage trials to check the feasibility of the process at scale.
The sustainable dyeing process has been specially developed for fabrics that are washed after garmenting to achieve a wash-down look. The process was modified so as to eliminate the Pad-Steam Development from the process flow resulting in huge savings of water. This also helps in saving water and chemicals during garment wash as the same wash-down effect can be achieved with a simple 30 minutes softener wash.
Water scarcity is one of the biggest challenges of our time. To achieve the scale of current productions, textile manufacturers need to reduce their consumption by developing innovative processes. As a responsible manufacturer, Shahi WPD looks forward to continuing to push the boundaries and set the benchmark in sustainable and responsible business.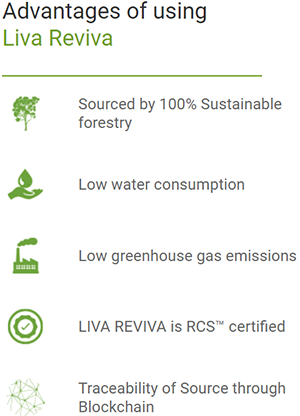 Birla Cellulose Closed-loop project
Shahi has partnered with Birla Cellulose to produce Liva Reviva with our 100% cotton and polyester-mix scraps. We supply light-colored scraps from our production lines to Birla where it is supplemented with wood pulp and cotton to produce Liva Reviva.
Liva Reviva is a fiber made of 80% wood pulp and 20% is pre-consumer fabric waste. The pulp is 100% sustainable forestry and is certified by The Recycled Claim Standard (RCS). Liva Reviva can be spun into yarns of 32s, 24s, the 20s, and 10s.